The aviation community in the UK is well informed on aircraft movements, thanks to public access of Apps and related software. We knew within minutes when ZH101, the last of the fleet of RAF 'Sentry' Airborne Early Warning aircraft had taken off from RAF Akrotiri, Cyprus, for the final return flight to its homebase at Waddington, Lincolnshire.
Estimated time of arrival was 15.00 local and the viewing area opposite the airbase was filling up when I arrived at midday – room for 100+ cars – to watch a militarized Boeing 707. However, this was history in the making, the passing of an era.
Many of us followed the flight's progress on their chosen App until the aircraft became visible against a cloudy but bright sky. Final checks on camera settings, you must get it right, there is no next time.
Banking into the turn for finals onto Runway 20, with the sun catching the upper fuselage and the rotating radar radome, heralded the first clicking of shutters. Ever nearer, from finals to short finals, crossing the busy A15, and touch down.
But wait, the spoiler flaps above the wings have not opened up to help slow the aircraft down. Next we hear the four turbofans spooling up again! And up it goes for another go-around – jackpot! You now have a chance to improve on pictures and rectify settings which you bungled on the first approach and landing.
Second approach - finals, short finals, landing, the turbofans spool up and away it goes for go-around number two.
Third approach - finals, short finals, landing, and again the turbofans spool up and it lifts, banking left for go-around number three!
Fourth approach - finals, short finals, landing, full flaps down and up go the spoilers, slowing ZH101 down to taxi speed. Safely home. Thirty minutes of sheer aviation delight!
The gratitude and appreciation for the commander and crew, for allowing us more than ample opportunity to take photographs, could be heard all around. This is public relations and a kinship on a grand scale. A wonderful relationship nurtured over many decades. The viewing area was abuzz, that feel good feeling, a warm summer's day, out in the open next to an airbase.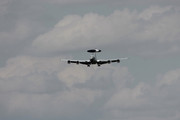 On finals onto Runway 20, RAF Waddington.
Short finals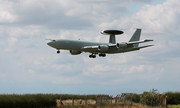 Crossing the road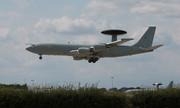 At the runway threshold, with a view onto a stable mate.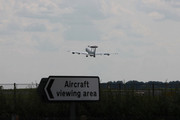 Go-around; signboard into the viewing area.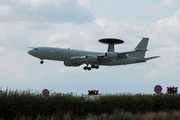 Crossing the A15 with the lights warning of approaching aircraft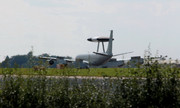 Flaps down, spoilers up, slowing down in the mid-afternoon heat - heat haze!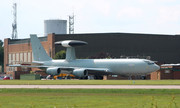 Taxiing to the hardstand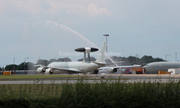 The traditional water arch marking a special occasion