There was / is a lot of talk on main and social media as regards whether the object shown at this unveiling is a mock up or a prototype of the planned 'Checkmate' aircraft. Of course everything becomes clearer as time passes and once the razzle-dazzle of flashing lights and men in fancy suits have gone, we can see the emperor has no clothes on.
As the manufacturer Rostech says 'Wanna see me naked' ...
The image shows the underside of the 'Checkmate' -
a mock up
. It's all rivets, hammer blows, misalignment of panels ... first flight by 2023? Really?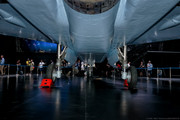 Credit: The Aviationist