The era for increased usage of RPA (Remotely Piloted Aircraft) has taken a major step forward within the RAF. The latest version of the operationally successful General Atomics MQ-9A Reaper is undergoing flight trials and integration within the RAF.
The new
RAF specific
Protector RG Mk 1 (Reconnaissance / Ground attack Mark 1) is currently undergoing testing and familiarisation flights from its homebase at RAF Waddington, using airspace above the Lincolnshire coast and the North Sea. 31 Squadron RAF will go operational in 2024.
I missed the initiation for its advanced testing and familiarisation flights from RAF Waddington last week by an hour and had to be content with seeing its movements over the North Sea on Flightradar24.
Three pictures:-
- A screenshot of the flight path, with the image showing a Boeing K35R tanker and a USAF F-15 in the near vicinity.
- A RAF file photo of the Protector
- Whilst in the viewing area near the base and deciding my options, waiting for the return or going home, along came a RAF Embraer Phenom 100 (multi engine pilot training, mission aircrew training and airborne specialist training) for some circuit work.
Protector showing as DRON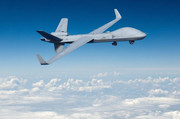 RAF file photo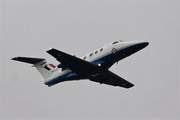 RAF Embraer Phenom taking off
I hope to see and photograph the Protector soon and will show the pictures here.
Sources:-
https://www.raf.mod.uk/aircraft/protect ... k-1-mq-9b/
https://www.airforce-technology.com/pro ... d-kingdom/