I read up regarding the collision between the SAA DC-4 and a SAAF Harvard 7464 on Saturday 30 June 1962.
Between a couple of old Newspapers and the book Fields of Air by James Byron it basically comes down to this.
The DC-4 have just passed over Louis Botha airport, heading north to a beacon near Umdloti and the to turn back and land. (The Blue Line)
The Harvard where busy descending with 360° turns.
The collided at the end of Edwin Sales Drive. (The red Circle)
The DC-4 continued its flight north with a missing rudder. The Pilot successfully did the turn and landed the aircraft.
Both the Harvard Pilots escaped and landed by Parachute, near one another. One being caught by an street light. The Small yellow circle.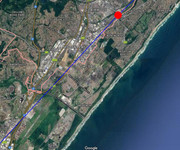 Now where it differs a bit is where the Harvard ended up, 95% of the sources say in a road near a bowling club (The Yellow circle), although one newspaper claims on the beach ?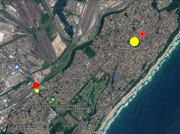 The reason for the collision have been attributed to miscommunication from the Louis Botha Control tower, one of the trafic controllers came in earlier for work and as luck would have it, one where busy with the DC-4 and the other one with the Harvard on different frequencies.
What did I get wrong ?