Mars wrote:
Very nice.

Never knew that the US Army looked at the Fiat.
Hi Mars.
They looked at them but the US Air Force blocked the Army from buying any. I believe they had an R1 variant with 2 x 20mm cannons, the R3 with 4 x .5 brownings and a 2 seater trainer for trials.
Photos below: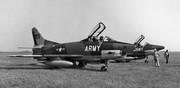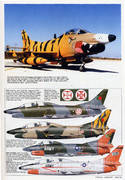 In 1961, two A4D-2 Skyhawks (BuNos 148490 and 148483) were borrowed by the U.S. Army and modified by Douglas for evaluation in competition with the Northrop N-156 (predecessor of the F-5) and the Italian Fiat G-91, for operations from unimproved airfields near front lines. Modifications included the drag chute canister underneath the rear fuselage, the twin-wheel, low pressure, main gear and the enlarged main gear fairings underneath the wings, as well as a wider nose wheel.
At the beginning of 1961 four G.91's (2 G.91R/1s with 4 x .50 BMG, 1 G.91R/3 with 2 x 30mm DEFA cannon, and 1 G.91T/1 trainer) were shipped to the United States for a programme of evaluation. One each G.91R/1 & G.91R/3 were placed at the disposal of technicians of the U.S. Army at Fort Rucker (Alabama) and one G.91R/1 and the G.91T/1 were delivered to the U.S. Air Force at Kirtland base (New Mexico). The aircraft made the transfer flight to the U.S.A. in C-124 Globemasters - though this was not the first air transfer of the G.91, since previous cargoes were tested in Germany with the twin-engined Noratlas.
In the United States these aircraft were submitted to severe evaluation tests with a view to studying a special tactical support unit for the U.S. Army. During one of these tests a G.91R/1 crashed at Fort Rucker killing the test pilot, Commander R. Bignamini.
Both N-156Fs participated in the tests, with the number two aircraft (59-4988) outfitted for unimproved field operations. This eventually consisted of larger tires for the main gear and a twin-tire arrangement for the nose gear.
Sod field operations were conducted at NAS Jacksonville and NAS Pensacola, Florida in June and July of 1961 with the other two modified competitors. Initial results were very favourable for all aircraft, with the N-156F receiving high marks for its easy field maintenance and load-carrying capabilities.
The number one N-156F (59-4987) later acquired U.S. Army markings for some additional tests and publicity functions. These were carried out in September of 1961 and provided a unique appearance for the Freedom Fighter.
Despite the promising results, the Air Force made its objections known and the Army backed down. The competition was cancelled. The remaining G-91R returned to Europe, the other one having crashed during the evaluation, killing its Italian Air Force test pilot Riccardo Bignamini.