Hi there Gents.. time for an update!
After my last update, I've gotten to a point with the Mirage where I simply ran out of patience I think.
Do to a small blunder I made with the nose, I had to fill in the join seam completely and battled to rescribe the panel line that represents the nose cone/fuselage join. Eventually after a bit of a chat with John, and a few attempts (followed by some swearing and more filling/sanding).. I reached the 'f#kit' stage of the build. I'm not too happy with how it came out, but I'm too irritated to refill and resand it again.
Plus as was pointed out to me, by a good friend... I've jumped 6 levels of model building in one kit. From not using any filler/sandpaper/aftermarket/scratchbuilding... etc etc.. to this, is alot to go in a short amount of time. That put it in perspective... Thanks boet!!! I know you'll read this!
I've been talking alot with John (giving feedback on the paint and kit)... and his insights are worth their weight in gold.
Anyways... on with the pics!!!
So first to be painted was the canopy. Now some may ask why I painted the thing black?? Well its quite simple... The inside of the canopy frames are in fact black on the real aircraft. Now a quick trick to represent this easily, is to first paint the exterior of the canopy black. (As it is the bottom layer of paint, it is what will be seen on the 'inside' frame). Followed then by whatever camo scheme to be applied. This is easier/simpler/smarter than trying to paint the inside of the frame like an idiot.
Having mixed up some black it was obvious to kill 2 birds with 1 stone, and do the anti-dazzle triangle on the nose cone. After letting it all dry, I applied masking tape... marked the general shape with pencil... and then cut the masking tape with a scalpel blade and refitted it to the model.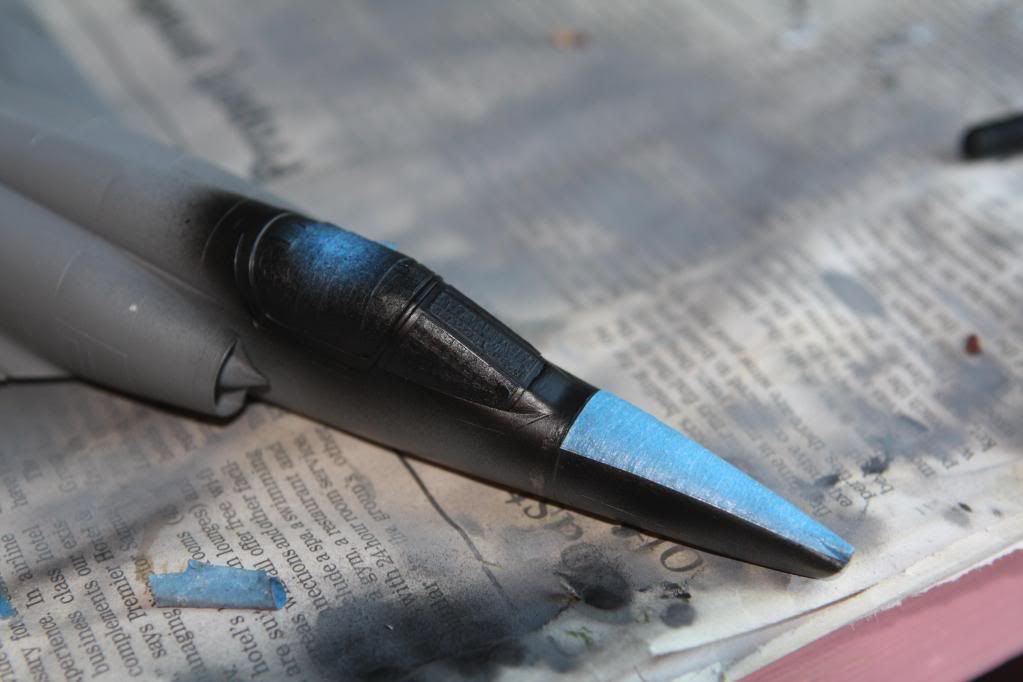 Next to in line, are the camera openings in the nose. Now the conversion instructions recommend to cut the resin shapes out, and fill with Micro-crystal clear (to represent the lenses). Sadly I'm a chicken and didnt feel brave enough to attempt such advanced surgery just yet. So I hand brushed semi gloss black on the bays and let dry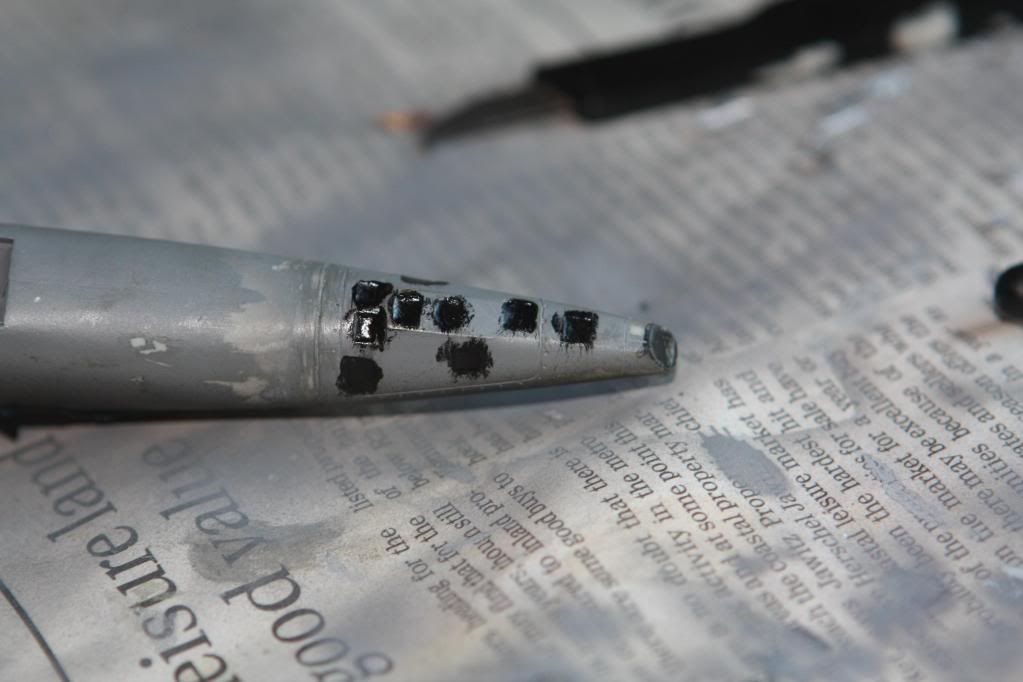 After that.... I applied some Crystal Clear to the lenses to act as a mask (it can be peeled off at a later date)....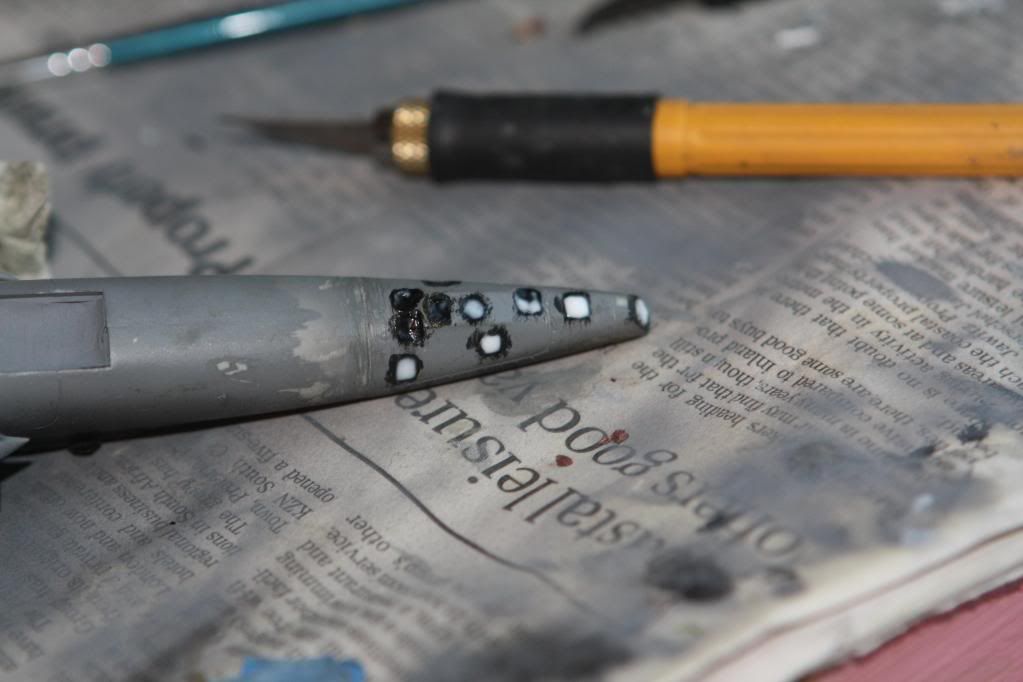 Now to introduce the latest characters, in this on going saga...
Larry, Curley and Moe.... Aka the Scaleworx 'Old School SAAF paint' set.
After bit of eyeballing reference pics of the RZ/R2Z I decided that it would be best to apply the light admiralty grey to the undersides first, and then mask that off, and apply the top camo later.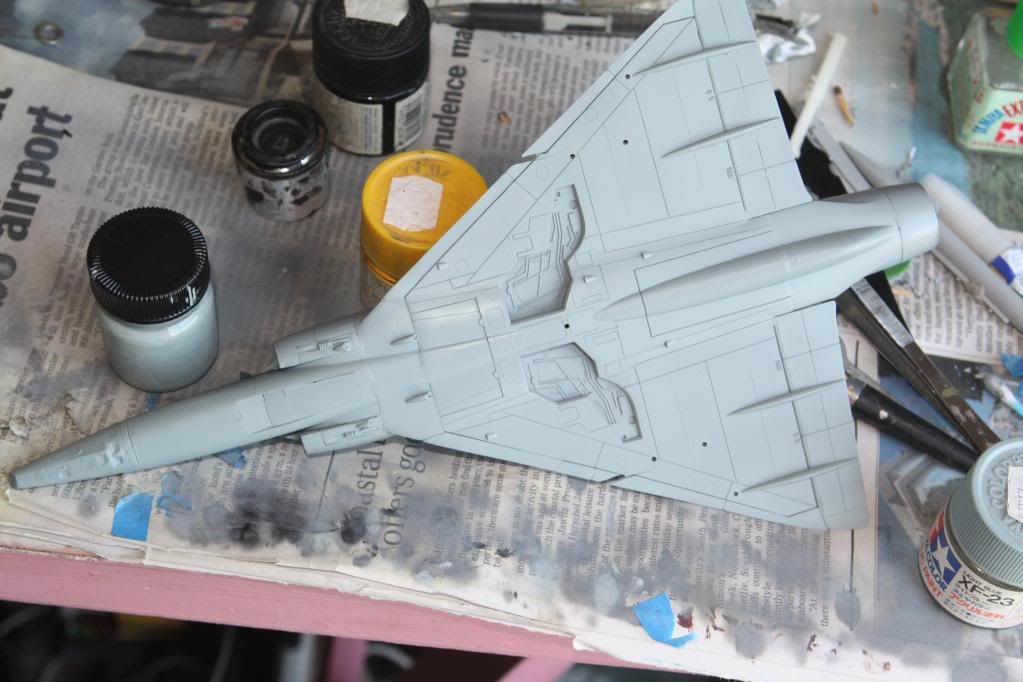 and now to dispel a myth, that XF-23 is close enough. While it may not be too clear in the pic... the XF-23 is too 'blue' if I can put it that way. As was bluntly put by John in a phone call 'because its light admiratly GREY... not blue'. However, I'm sure with a bit of patience, some good reference shots and some mixing one could get very close with XF-23 as a base.
So now with dry and masked off, the next thing was to get the correct camo pattern for 857. Now according to 'Aircraft of the SAAF'... "Basic current SAAF color scheme: All versions are camouflaged utilizing the standard French Air Force pattern."
True to certain extent. While the French scheme was the basis, individual aircraft all had slight differences between their schemes and markings. So to be sure, I hunted for a lot of ref shots of 857, as sadly I cant get pics of her now as she resides in Hangar 4 (I think) at AFB Ysterplaat... the restricted side. I've accumulated enough shots of her over the years to cover almost all angles, and lucky enough to possess a shot of 854 during a roll (so as to show her from the top). Based on these pics, I roughly drew out the scheme with a pencil.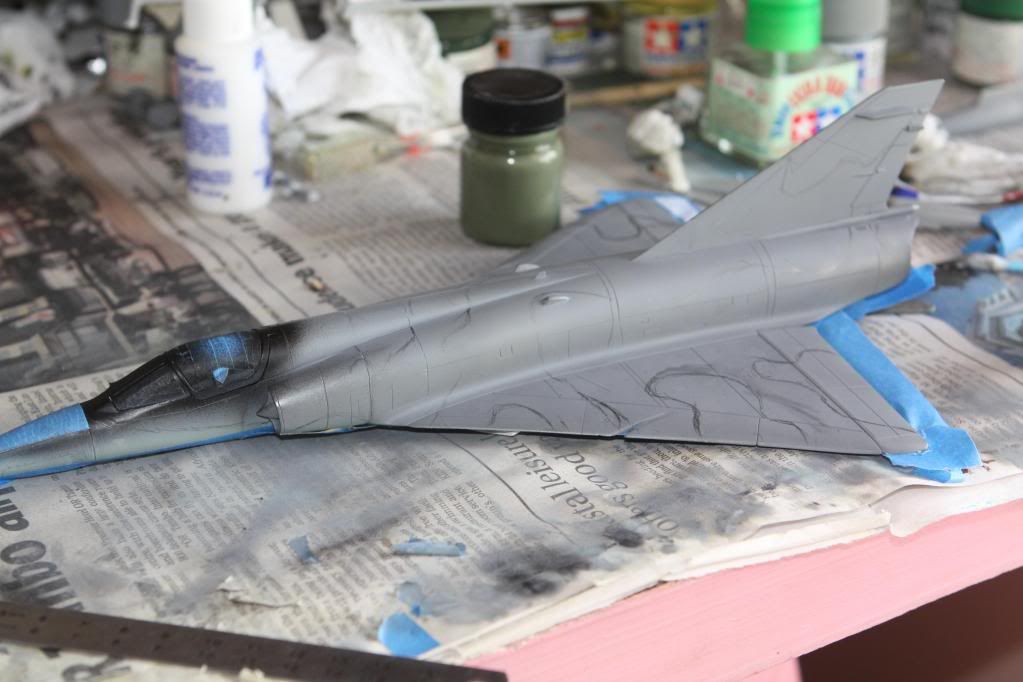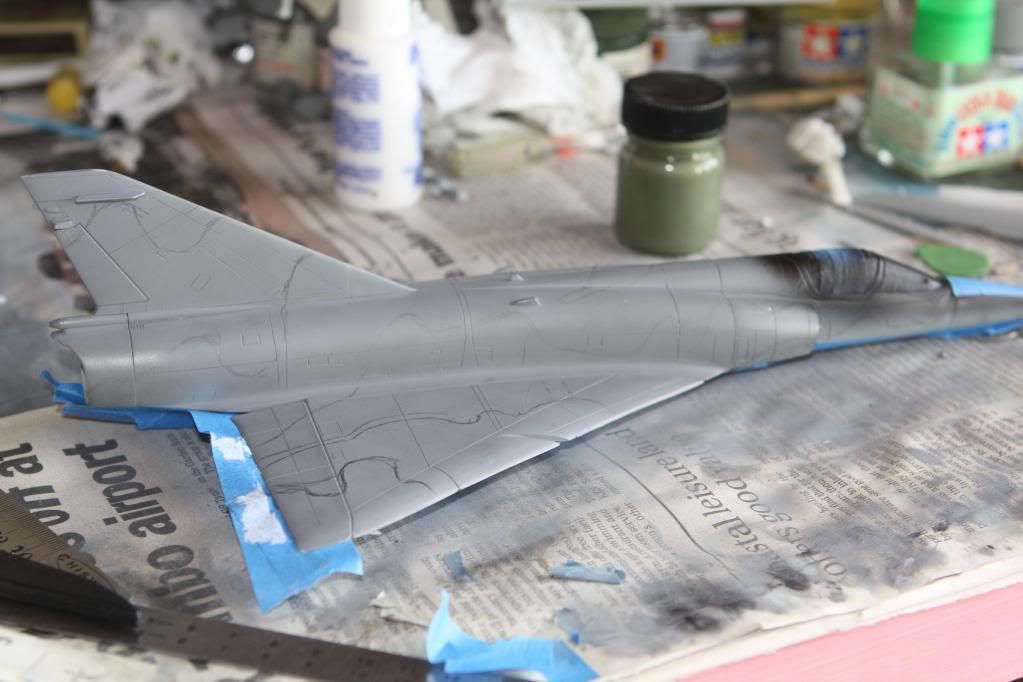 I also happen to know that the SAAF tended to 'overhang' their camo on the underside leading edge of the wing. (Also pointed out by John). So that was also duelly masked off...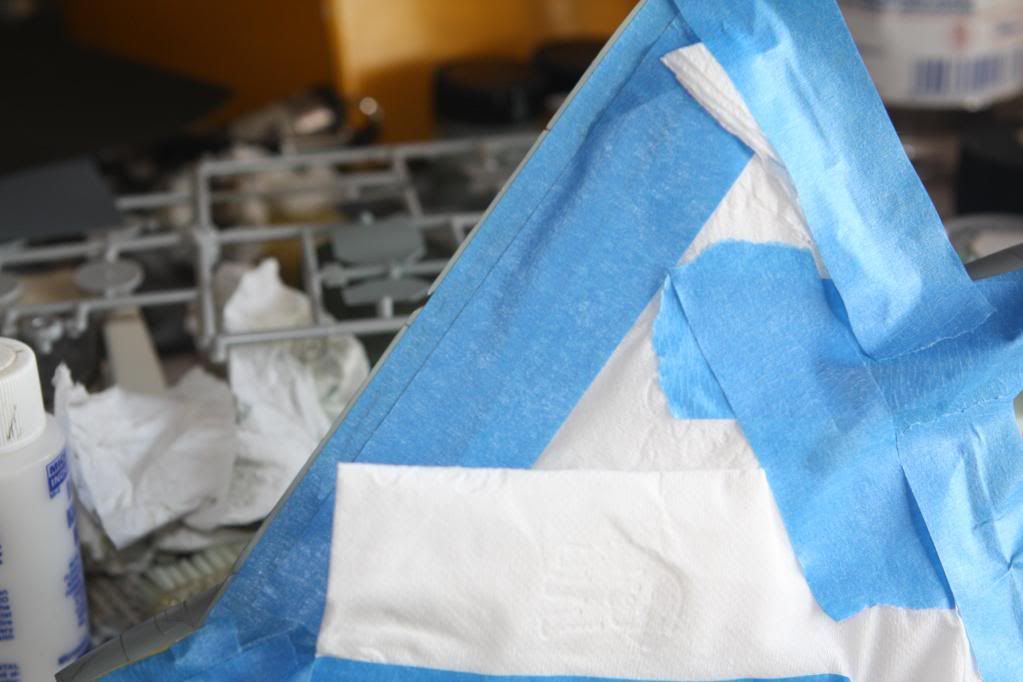 Then after some debate as to how which order to paint the thing... (with a helpful hint)... it was the green to go on first.
Spraying roughly the areas I marked out... she now resembles the Mirage 3 RZ at Swartkorps in grey and olive drab camo (836?).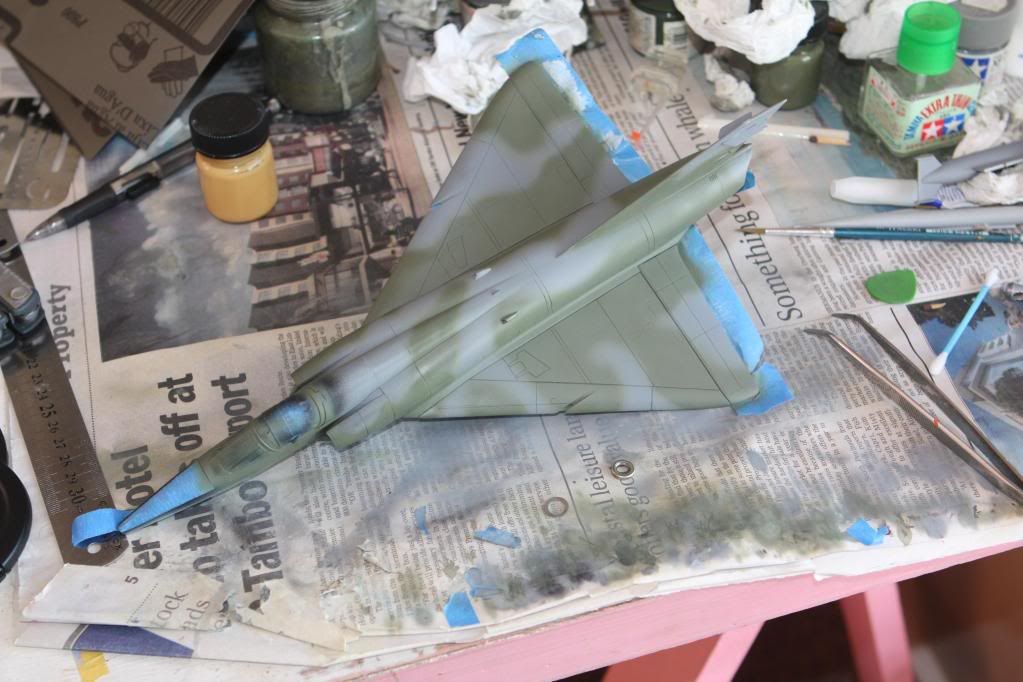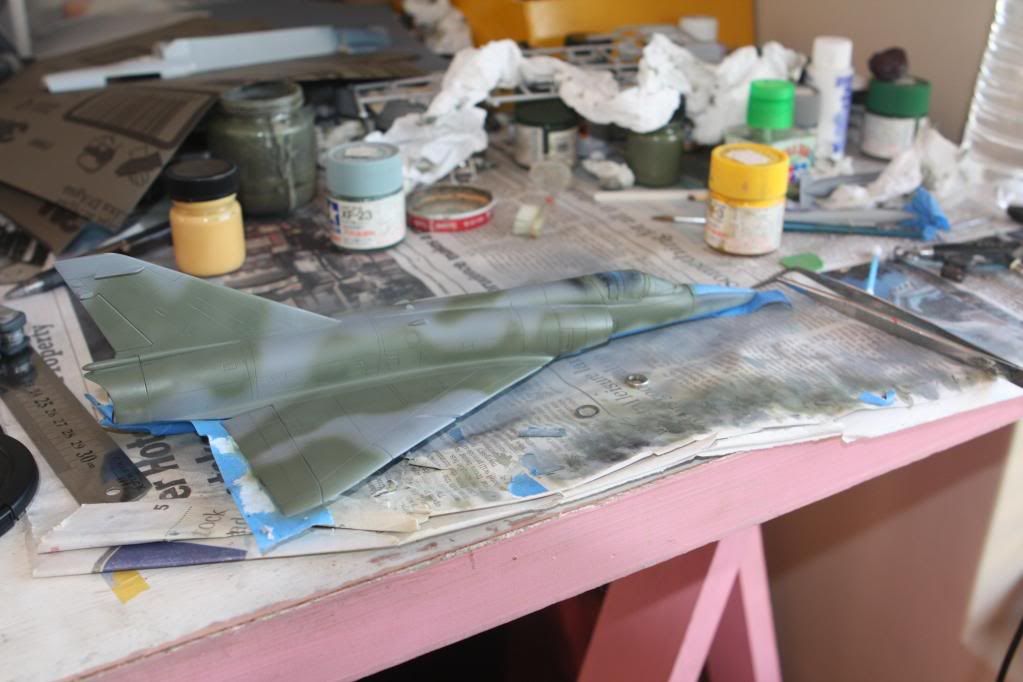 This is where she sits now. I've been with the better half for the last 2 days, so shes had time to sit. I need to give the green another coat... just to keep a constant finish (may have been a bit thin in some points).
Voila.
Next pics posted will hopefully show her masked off and ready for the Deep buff coats.
Wish me luck!