As the title suggests I have this habit of doing some sketches in my free time. Being a fast mover guy and a bit of an patriot means the subjects are usually SAAF fast jets. The collection is still relatively small, but slowly I am adding them as the inspiration comes and the time allows!
The quality varies as each time I learn new techniques and gain more understanding in matching light and shadows etc.
But let's get to pictures!
1975 - 1992: Mirage F1CZ - "Vlamgat!"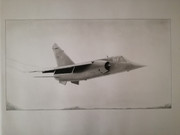 Being a true rivet counter when it comes to drawing, creating the final shape takes most of the time. The colour profile in this one was a bit messed up... I initially wanted to portray 201 with "Kmdt. Willie Hartogh" written on the nose. The F1's air superiority scheme showed plenty variation and unknowingly I erroneously matched up more than one when referencing schemes... I won't tell if you won't!
As you can see, eventually I decided the nose art was beyond me and I went to a standard F1CZ scheme and antennae array post '88. Titled "Vlamgat!" because - well, we all know why...
1993 - 2008: Cheetah C - "Vlaggie"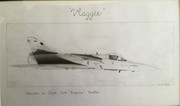 Vlaggie portrayed in colours she is not known for. I specifically wanted to do 370 in a colour scheme and antennae fit of the Cheetah C's circa 1995, and that is exactly what I did! This one was plenty fun in terms of research and she is the earliest of the bunch too!
Alternative history...
2000 - present: Carver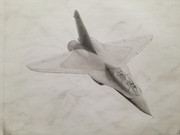 Carver is well known around here and I have shared this one previously too in the Carver thread. This was the first sketch where I had to work with no reference photo which really taught me a few things regarding shadows etc. I also opened the door to my own creative placing of the subject on the page. She was also great fun as no reference material exists so artistic licence could be used freely where online sketches and models were either unclear or known to be incorrect of the final model. Feel free to provide the necessary documents that show any errors in the final shape.
Snap back to reality...
2008 - present: Gripen C - "Spartan"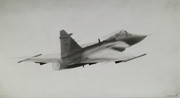 Just completed not a day ago! She was a difficult one. Not only is the Gripen actually one hectically complex aircraft with regards to aerodynamic shape, but I also wanted to do a max G pull-up (slightly bendy wings with fluff!). Again, I used the experience gained from Carver in placing the aircraft in an orientation of my choice. This made setting up of colours and shadows rather complicated, but I am well pleased with the result. The fluff was also a new challenge but I think it adds loads to the final result. I titled this one "Spartan" as a tribute to Maj. Geoffrey Cooper and the very fine work he has been doing in representing the Flying Cheetahs and the SAAF the past few years.
As always, comments and constructive criticism is welcomed! You can only improve when you learn from mistakes, or new techniques are revealed to be used in the next project.
That's all for now folks!