I have fourteen (14) 1/72 kits looking for a good home for the price of the postage and maybe a nice 1/48 or 1/32 aircraft kit thrown in
a Revell 1/32 B206 Jetranger or Heinkel He-162, Hawker Hunter, Trumpeter Mig-21 would do nicely for example or a 1/48 Tamiya Spitfire Mk.Vb, Bf-109E or F Trop, Hobbyboss Mig-17 etc you are welcome to make an offer.
It would be preferrable for whoever takes them to be in the Durban area but if you are anywhere else in the country I would appreciate if you could cover the postage.
If you are in the Durban area there is a box of built but damaged 1/72 kits to go with the above for spares if you want.
Most importantly, the kits have been stored in the garage and so there is some damage to boxes, some boxes have what appears to be bug or critter droppings in them and some of the decals have suffered accordingly however the kit parts themselves are fine appear to have all parts and not wanting to damage or loose parts it will be posted or delivered more or less "As Is".
Also important to note that should any parts be missing then its just one of those things I cannot help you but the kits do appear complete.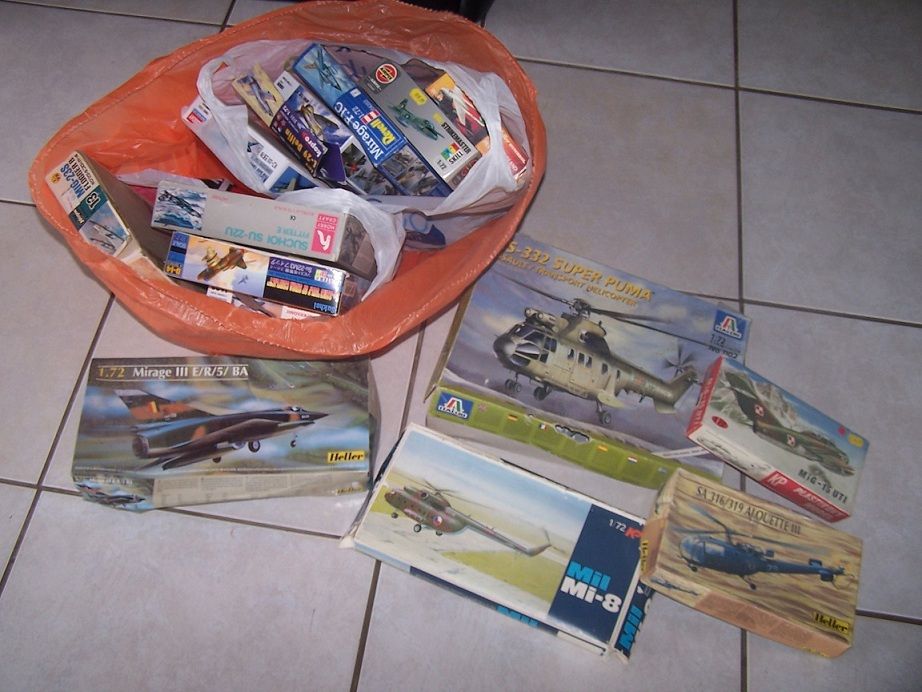 All kits are 1/72
Revell Mirage F1C (Ex Hasegawa mold)
Heller Mirage III E/R/V
Heller Vambire FB-5
Heller Alouette III
Heller/Airfix SA-330 Puma 1x complete kit plus 1x built painted fuselage
Italeri AS332 Super Puma
Airfix Bac Strikemaster
KP Mig-15 UTI
KP Mil Mi-8
Kopro L-29 Delfin
Academy Hawker Tempest V
Academy Mig-23 Flogger-B
Hobbycraft Su-22U
Mastercraft Su-22M3
Moria Aranid etched brass seatbelt set suitable for Allouette II, III, Puma, Oryx etc
Cheers
Greg