The following pictures are not of an Airshow. They were taken at RAF Waddington, England, on Monday 9 September and it shows the dedication (fanaticism) of aviation photographers to get their pictures. The RAF is currently hosting Exercise Cobra Warrior with assets from the Air Forces of Israel, Germany and Italy participating - the first deployment of Israeli aircraft to the UK. The Israeli aircraft (seven F-15's) are from 106 'Spearhead' Squadron.
https://www.raf.mod.uk/news/articles/mu ... a-warrior/
In South Africa it's the sun, in England it's often the rain, but come they will. The following shots were all taken from a small parking area next to RAF Waddington. Between the parking area and the Airbase is a busy main road, the people you see standing along a fence is on the other side of the road. Road signs and police were very visible to alert and slow traffic down, showing much tolerance in allowing photographers to do their thing - commendable! Furthermore, it was raining lightly, some are in shorts with no rain protection, cameras and equipment exposed to the elements. No, I did not get wet, I had rain protection, only taking the camera out when necessary over a wet two hour period.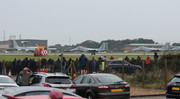 RAF Boeing E-3D Sentry 'Awacs' and three Israeli Air Force F-15 Eagles 'Baz'.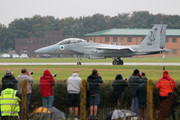 Israeli F-15D waiting for take-off clearance.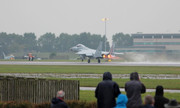 Israeli F-15C in full afterburner taking off.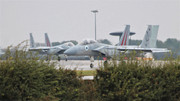 Taxiing for take-off.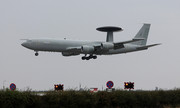 RAF Boeing E-3D Sentry (AWACS) on short finals.