I managed to find some time to continue on this project. I masked some datails and began with dark earth color.
Now there's stromy behind this color. It's almost winter and I am coming back home when it's dark. I used equivalent of humbrol 29 using Tamiya XF-52. Out of the bottle, color seemed to dark so I made mixture 1:1 with XF-55 Deck tan. Unfortunately Tamiya acrylics get darker when applied and artificial light didn't help either.
So my opinion, after morning photo on natural light, is that color is too dark. I am going to do some dots and shading techniques so I there will be no repairs now. As blending color, I will use something much more lighter, possibly XF-55 Deck tan + few drops of XF-52 Flat Earth.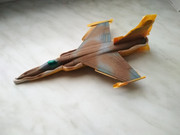 I can't wait for finishing this project. I love the build of this bird, but I hate it when it gets too slow...
I shall finish another started project before starting anything new. Some votes for new project would be welcomed:
Eduard Spitfire Mk. VIII 1/48 (Aussie Eight)
Eduard Spitfire Mk. XVI 1/48 (SAAF Bubble top)
Eduard Avia S-99 1/48 (Czechoslovak police unit Bf 109G-10)