Oh thanks Geoff!
What I could see from a cockpit pic: the sidewalls are green, window frame grey and the IP bluegrey with black instruments, same with the overhead IP. Controls and foot pedals are black. I already prepared the Cockpit parts like that. I hope I hit to tone of the colors. Otherwise there will not be much visible after the fuselage and windshield is glued in place.
Studying pics I already noticed the small window on the left side for the radio compartment and so I cut a square hole in the left plastic part and glued a clear piece of plastic. The window for the toilet I have not found. Maybe you have a pic where I can see that? So I will add it soon. Monogram has a square engraving on the right fuselage part but it is located over the back end of the cargo room. Seams wrong there!?
Also cut the "chicken butt" of the Dak and added a bit of structure inside the rear walls because I want to fix the cargo doors in open position.
Next step will be the painting of the interior.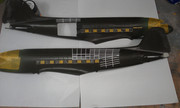 You are right about the number. Not many pics in the net from 6892 (no idea what was the reason why Zane printed decals just for that Dak. He should have proved the option for other numbers, too.). Was there a 6829? So I just have to change position of numbers, haha!
I also prefer to have Dak with the late prod. filter housing on top of the engines. (6892 has the small early intakes).
Here pics of cockpit parts. The bluegrey was mixed with Revell 50 and 75 using eyeball Mk.I. Details painted with black ink and white oil. Not so easy as Monogram made no sharp but flat instrument details. But it is ok for me and like I said before, later it will be...