I have found a few very nice photos of JF294 that is at the South African National Museum of Military History on the net so will use these as reference where possible. JF294 was also on the same production run, only around thirteen ahead of JF322 (JF301 to JF315 was never used on Mk.VIII's), so you won't find a better reference when modelling JF322
Tamiya's Rudder Pedal Assembly setup is fairly bulky so I superglued some rod into where the pedals will be glued and then thinned it down with cutting and sanding.
Next is the seat framing as per the real thing below.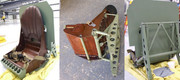 The frame is created by folding a small piece of metal from a beer tin over a 15cm stainless steel ruler then shaping it, after that I drilled a few holes as seen in the real thing above. This is will be joined together using very small gauges of Albion Alloy tube using a telescoping technique.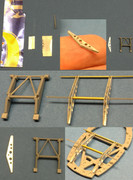 I have also slightly modified the framing behind the pilots head to look more like that of the Mk.VIII JF294.