As the Rotol propellers used on these Spitfires are mainly of a wooden construction with a brass sheath on the leading edge as in the photo below.
These blades seemed to have the paint fade on the rear rather than chip and wear off completely like the metal prop blades did.
The paint did chip and wear of the brass leading edge sheath though.
The prop was painted in a wooden colour by mixing Tamiya XF-57 and XF-59 with XF-64 used for the grain.
There is very nice photo etch masking templates available, but this will be painted over in black. So, no finesse needed here, only an effect.
The brass sheath on the leading edge of the prop blades is replicated using Mr Color no 8 Silver coated with Tamiya Clear Yellow X-24 to get the brass effect.
This brass portion was then coated with Mig Jimenez AMIG2011 Heavy Chipping Effects to allow chipping here.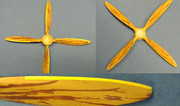 The prop blades were then coated very lightly with Tamiya XF-85 with a drop of XF-2 on the rear outer, so the wood effect can bleed through, and XF-85 on
the front and rear inner. This was then misted over with Future Floor Polish (Yes, it is the original formula that one of my neighbours gave to me). Then a
dirty wash was applied all over and wiped off in the direction of the airflow.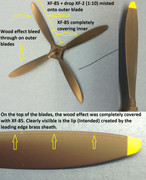 The leading edges of the prop blades were then chipped on the brass sheath using 2000 grit Tamiya abrasive run in the direction of the airflow over.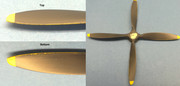 Once the decals were applied, they appeared a little bright, so I misted some Tamiya Smoke X-19 over to dull them a little. The whole blade was then
coated with Alclad Clear Coat Matte ALC313.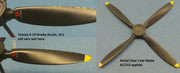 Cheers
James